5 Best Ways to Make Money With an Excavator
August 11, 2022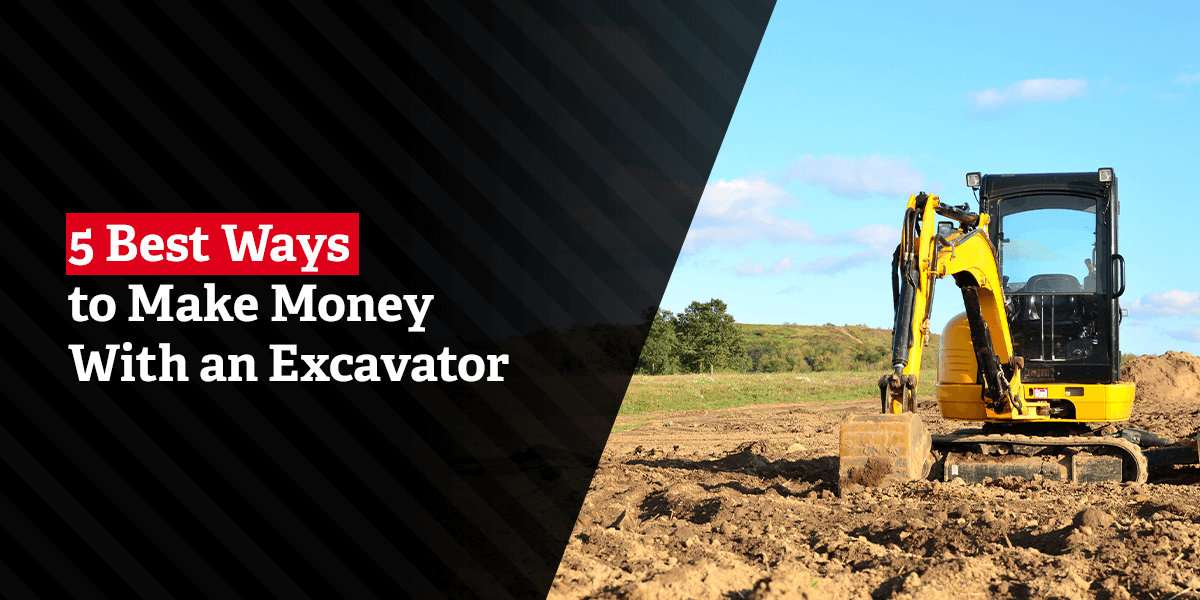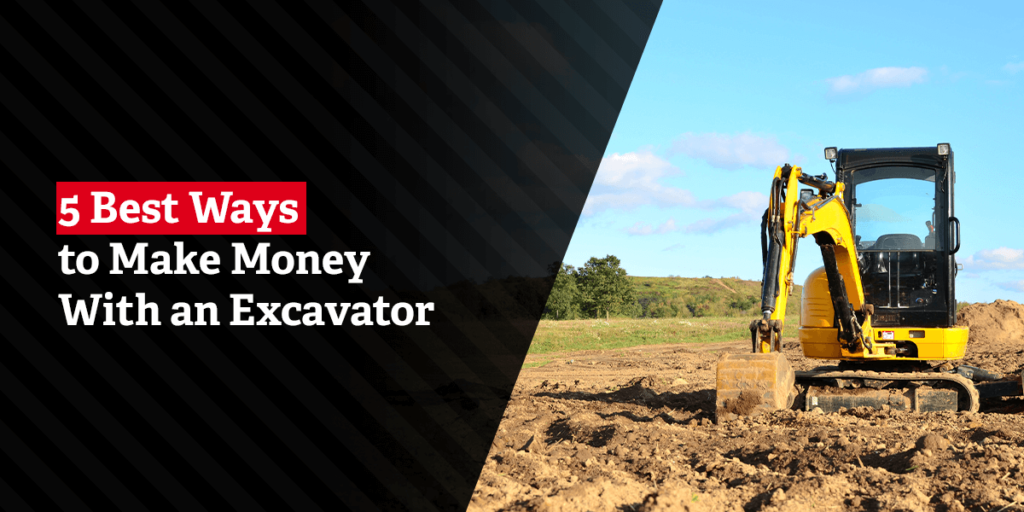 An excavator is an extremely versatile piece of equipment that can double as a lucrative way to make money. These machines are excellent for digging and carrying applications. With additional special tools like cutters or grapples, you can get a lot done with a single excavator…
Whether you are looking to start an excavating business or just want to make some extra money on the side, we are sharing various ways to make a profit with this equipment.
Learn more about how to make money with a mini excavator. Uses of a Mini Excavator
You can use a mini excavator for various jobs, including:
Construction: This equipment is perfect for digging trenches and ditches for construction projects. Mini excavators are handy for job sites with delicate surfaces or tight spaces.
Farming: From digging holes to lifting feed bags, there are endless uses for a mini excavator on a farm.
Landscaping: Whether you need to remove debris or dig to install a new pool or hot tub, landscaping work can benefit from this diverse piece of equipment.
Maintenance: Mini excavators are useful for maintenance and utility work that requires activities such as trench digging for new sewer lines or clearing snow from parking lots.
Handling materials: When it comes to activities like clearing and lifting piles of debris, a mini excavator is perfect for the job.
Renting vs. Owning an Excavator
When contemplating how to make money with heavy equipment, you may wonder if it is best to rent or own it. Your excavation business profits could vary depending on this factor.
Here are some of the considerations for renting a mini excavator:
No maintenance costs: One of the benefits of renting instead of purchasing equipment is that the owner is responsible for the maintenance costs and coordination.
Tax deductions: Every time you rent a mini excavator, you can write this off as a business expense. Plus, there are no restrictive rules regarding the specific tax year.
Getting familiarized: One of the disadvantages of renting equipment is that you will need to take some time to familiarize yourself with its operation before getting started on a job.
These are considerations for owning your piece of equipment:
Guaranteed availability: When you purchase your own mini excavator, you will not have to wait for rentals or coordinate schedules. Instead, your equipment is always readily available when you need it.
Higher upfront costs: Owning comes with higher costs at first, but there are no ongoing rental fees when you own your excavator. Instead of repeatedly paying for rentals, you only have to budget for your purchase and maintenance costs.
Ownership: When you own your equipment, you can become very familiar with how to operate it and become more skilled over time.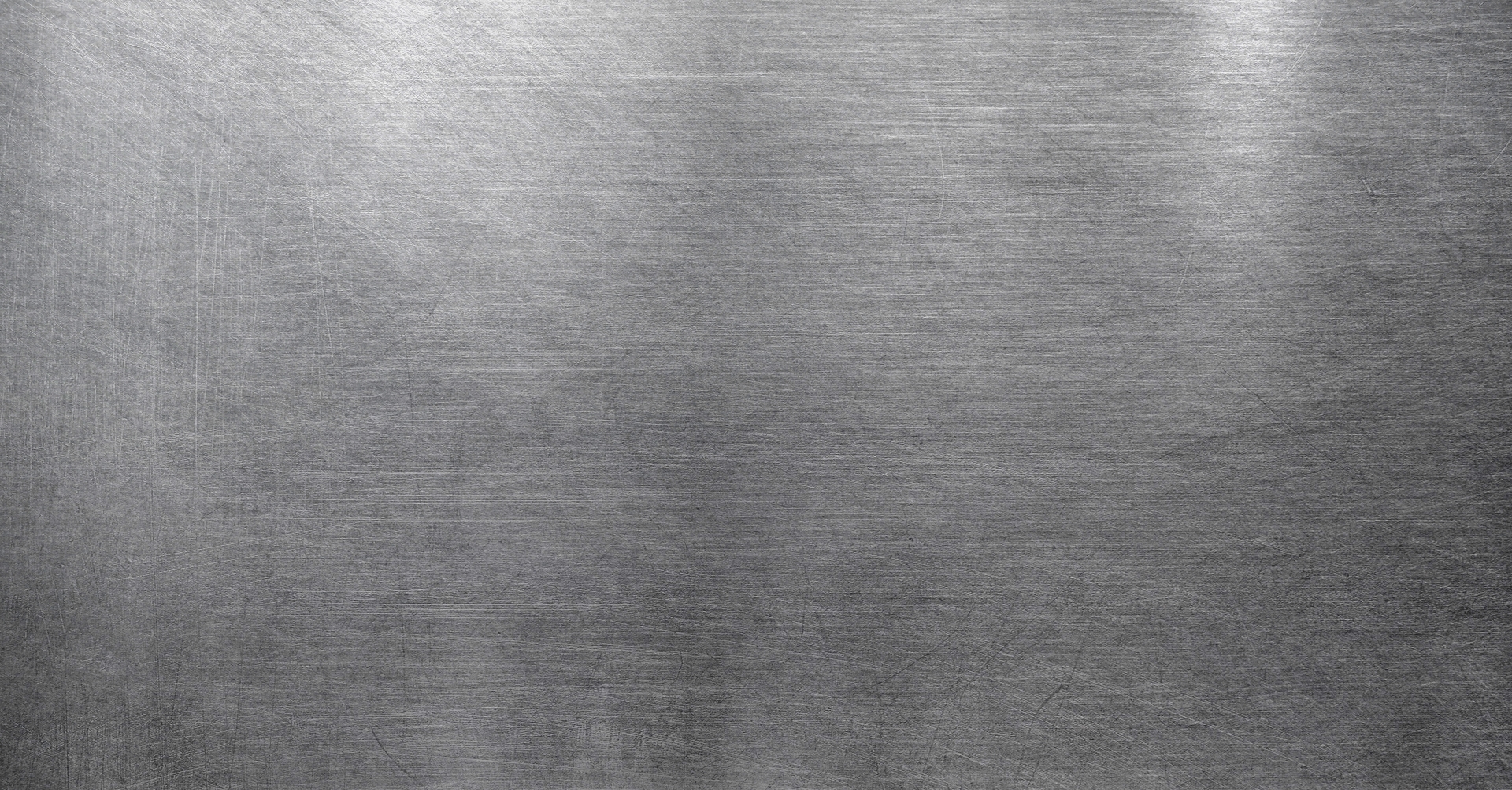 Is a Mini Excavator a Good Investment?
A mini excavator can be a very good investment. If you are thinking about investing in a mini excavator, consider these factors:
Versatility: These pieces of equipment are extremely versatile. You can pair them with multiple attachments and perform countless jobs, from grading to digging.
Labor: An excavator can replace the need for additional labor. If you are operating with limited workers, these machines can do the work of multiple people.
Durability: Excavators are durable pieces of equipment that can withstand a lot of wear and tear. They are also easy to maintain if you follow routine inspections.
Resale value: One of the greatest benefits of investing in a mini excavator is that these machines have a high resale value.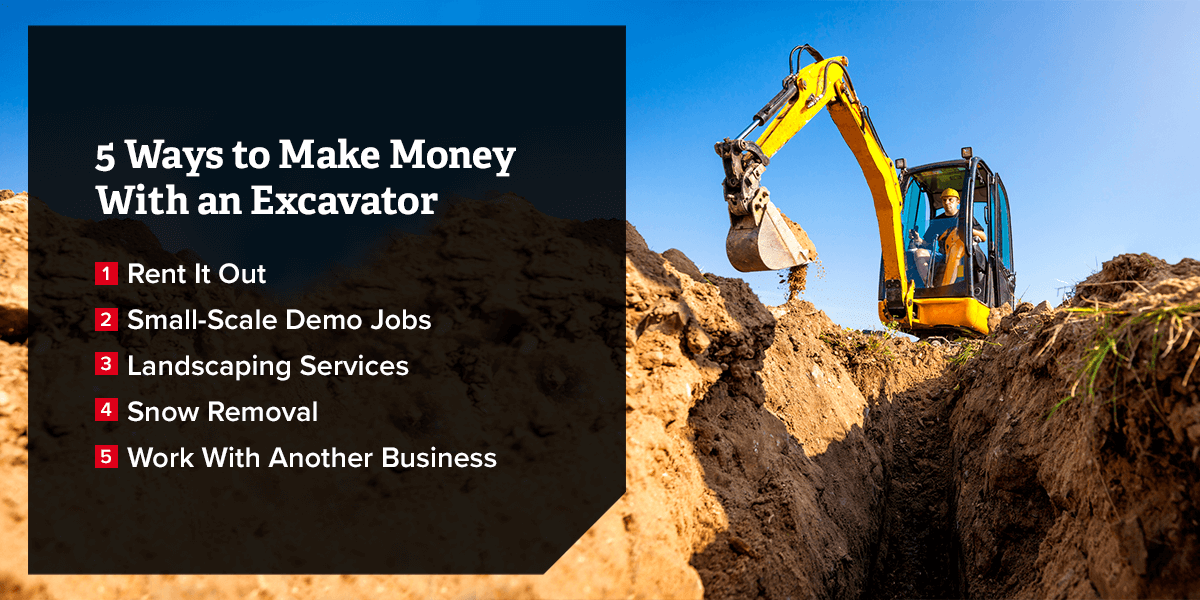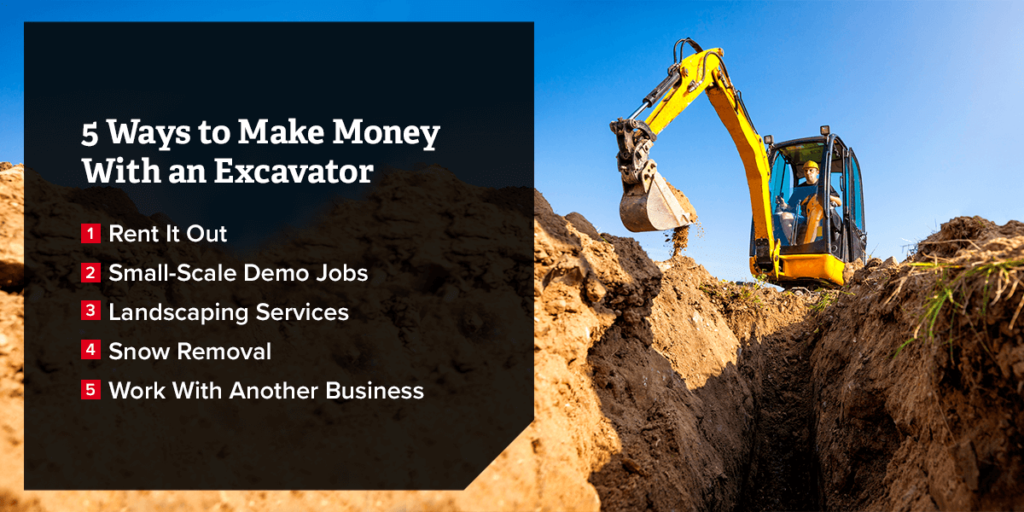 5 Ways to Make Money With an Excavator
You have many options if you are wondering how to make money with an excavator. Check out these mini excavator business ideas:
1. Rent It Out
If you own your mini excavator, renting it out is one of the most lucrative ways to make money. You can quickly make a return on your investment this way.
Renting out your excavator is an excellent way to make the most of your equipment while making a profit. And since you control when you rent out your machine, you can still complete jobs with your equipment on your own time.
2. Small-Scale Demo Jobs
Another excavation business idea is performing small-scale demolition jobs. You can offer demo services for the following types of small- or medium-sized structures:
Decks
Sheds
Fences
Garages
Driveways
Any larger structures would likely require a standard size excavator. Your customers will appreciate paying you for demo work rather than looking to a construction company with premium prices.
3. Landscaping Services
If you are looking for a mini excavator job that is quick and easy, consider offering landscaping services such as:
Digging
Land grading
Debris and brush removal
One of the benefits of using a mini excavator is that they are quieter than standard options and will not be too disruptive when working in neighborhoods.
4. Snow Removal
If you need jobs you can do with a mini excavator during the colder months, snow removal is a great option. Various types of attachments can make removing snow even easier, including:
You can advertise your snow removal services online or post flyers around your neighborhood.
5. Work With Another Business
Another way to make money with your equipment is by teaming up with another mini excavator business. You can do loading and unloading work or assist with small demo jobs. You can help out a small construction or landscaping company and make money while doing so.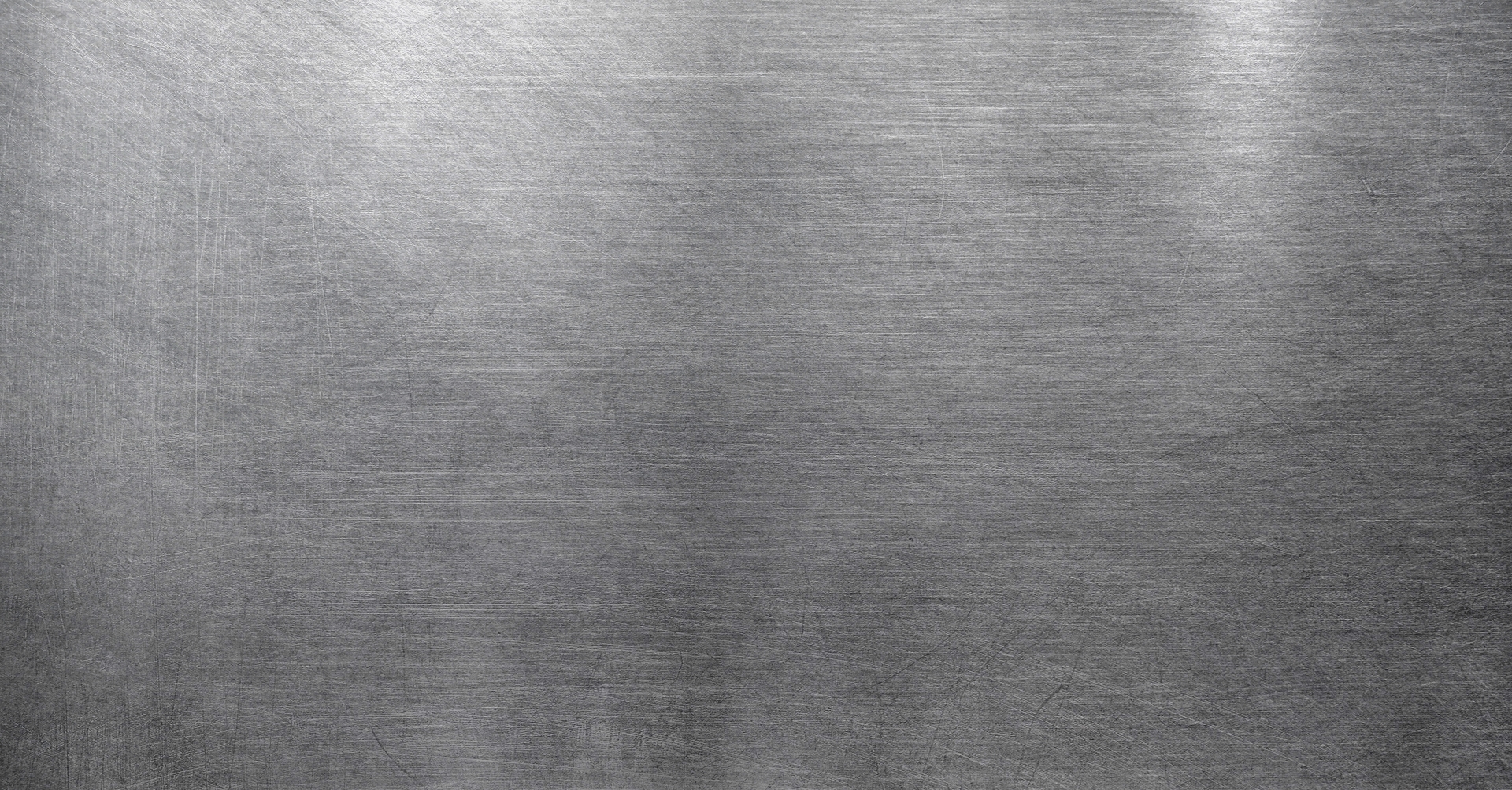 Other Considerations for Making Money With an Excavator
When starting a mini excavator business, ensure you consider the following:
Size and storage: Before buying one of these machines, make sure you have the storage availability to accommodate the size of the excavator.

Weight limits: Ensure the excavator's maximum operating weight is not too heavy for the jobs you want to complete.

Wear parts: Excavators require replacement wear parts after repetitive use. Factor the cost and time needed to replace parts into your equipment maintenance plans.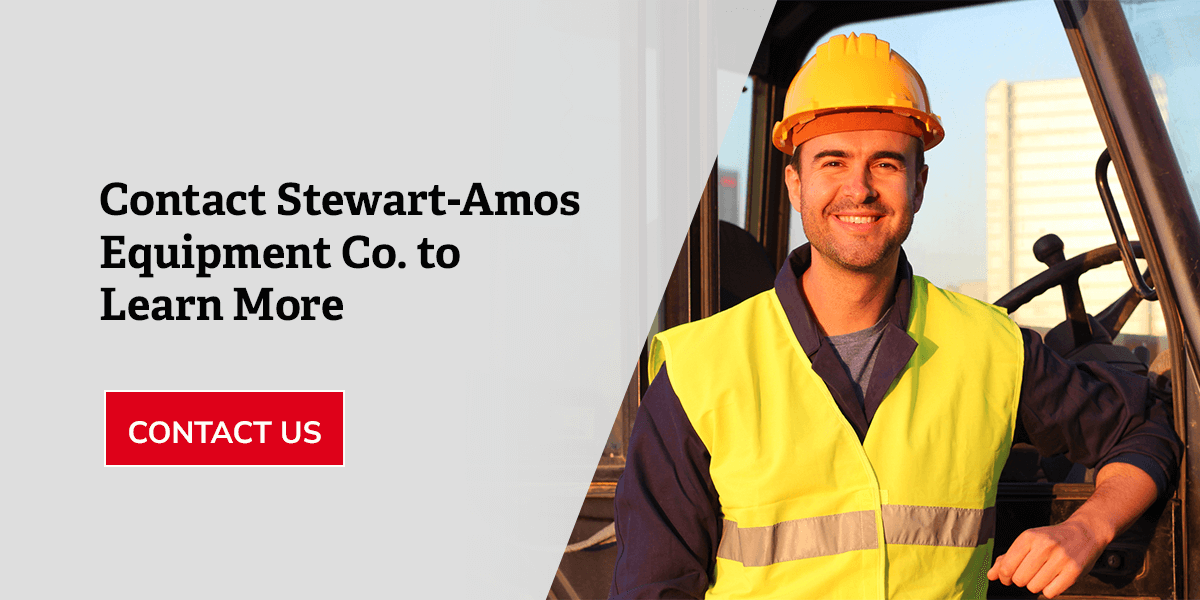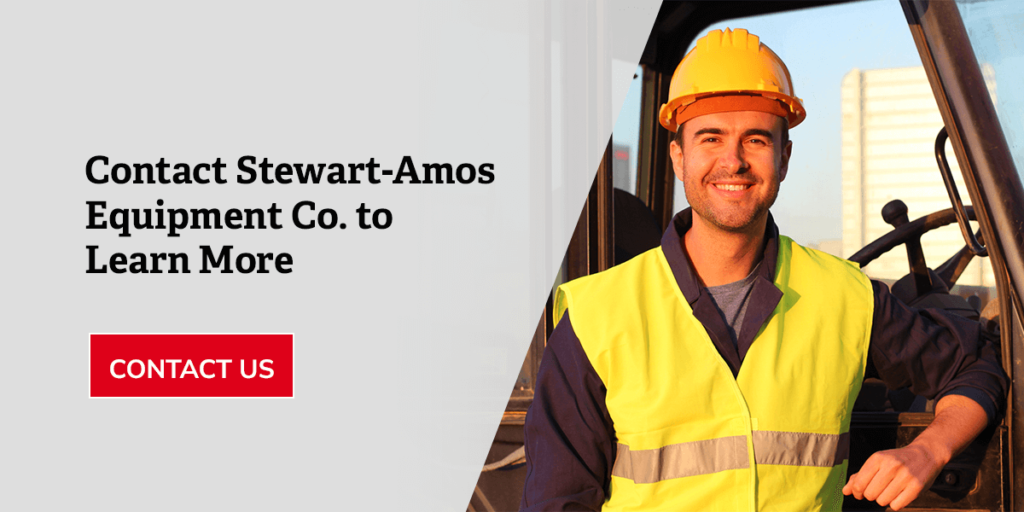 Contact Stewart-Amos Equipment Co. to Learn More
For more than 80 years, Stewart-Amos Equipment Co. has been part of the wear parts and heavy equipment distribution industry. In addition to equipment sales and rentals, we offer an extensive inventory of replacement parts for many different pieces of equipment.
At Stewart-Amos Equipment Co., you can find high-quality Black Cat wear parts built for longevity. We prioritize giving the people who work with us the greatest value and customer service possible.
Interested in learning more about PA Black Cat excavator wear parts from Stewart-Amos Equipment Co.? Contact us today!