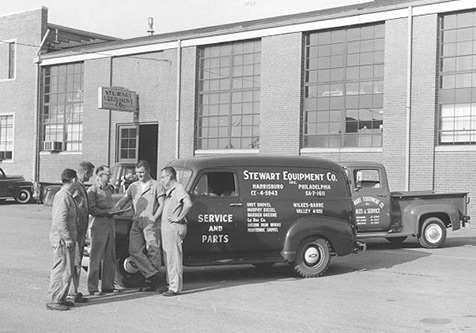 About Us
In 1938, Al Amos founded our company as a distributor of mineral processing and aggregate production equipment for the limestone quarries located in Pennsylvania.
Today, that division has evolved into one of the mid-Atlantic region's premier suppliers of aggregate crushing and conveying equipment.  With design and layout, distribution, engineering, fabrication, assembly and installation, the staff of the aggregate division brings their expertise to each project regardless of the size and scope.  From turnkey quarry installations to simple plant improvements, Stewart-Amos is the vendor of choice for the aggregate industry. Also based in Harrisburg, PA; Bob Stewart started a road building machinery distribution company in 1947. The sales of asphalt pavers, compaction equipment, earthmoving machinery, refuse bodies and street sweepers fueled the growth of this division.
With the consolidation of the construction machinery manufacturing industry during the late 1980s and early 1990s, the decision was made for the Stewart division to concentrate on providing specialty wear item solutions for the construction and mining industries.  Also at that time, the Stewart division began renting specialized equipment such as hydraulic hammers, mining and construction dewatering pumps, and street sweepers.
Our Focus
Stewart-Amos offers a complete line of minerals processing and materials handling equipment. Also offered for sale or rental is the line of TOKU and BTI hydraulic hammers, Stewart-Amos street sweepers and GORMAN-RUPP heavy-duty pumps.  Please see our "Products" tab for a complete listing.  Financing in the form of lease-purchase option or outright purchase is available for qualified customers.
Complete rebuilds and repairs for ALL makes of hydraulic hammers, boom systems and water pumps.  Our rebuild center specializes in precision rebuilds to exacting standards.  Next time your hydraulic hammer, boom or pump needs to be rebuilt, please try us out. You will be glad that you did.
Stewart-Amos Equipment Company maintains an extensive inventory of replacement parts to  support a broad range of equipment. We maintain a vast supply of Original Equipment Manufacturer (OEM) parts so that customer downtime caused by ordering delays can be prevented. Expedited delivery services are also available.
A fleet of service vehicles manned by the qualified team of Stewart-Amos Field Service technicians responds promptly to customer requests for onsite repairs or maintenance work. The Stewart-Amos Parts and Service Department also offers complete in-shop servicing in modern and well-equipped facilities.
Our objective is to serve our customers and assist them in obtaining the greatest value and benefit for the dollars invested. Comparing options and capabilities of a new piece of equipment, we make it our business to find the right machinery offering the best value for our customers' needs. We sincerely thank those individuals and companies who have selected us as their supplier of choice. We welcome our new customers and pledge our best efforts to serve the growth of their businesses. And finally, we invite those who have not yet worked with Stewart-Amos to come in to any of our locations – or call, e-mail, or visit our web site to inquire – and become better acquainted with the people behind the name Stewart-Amos Equipment Company.